One day I found myself
here
only to find a review about
Pride and Prejudice
. I was excited to see it was all part of a Classics Book Club and before you could say 'Mr Darcy' I was all signed up.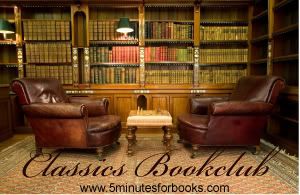 The deadline for reading Pride and Prejudice had already passed but I knew I could squeeze it in and have the next book (Jane Eyre) read on time (October 7th) so I indulged myself.
I love Pride and Prejudice it is the literary equivalent of pulling on your snuggliest PJ's, sitting in your most comfy chair and having a humongous mug of hot chocolate with like 40 sugars. It is pure comfort reading at it's best
I had been attempting to recapture my adoration for Mr Darcy-Firth so I figured this was as good a place to start as any. I have seen the BBC adaptation so many times that when I read the text it is those very same characters I see in my mind.
Pride and Prejudice has long been a favourite of mine for the following reasons:
Why use 3 words to make your point when you could use 27 (true of all the classics)?
2. You have to love a bad boy don't you? And P&P has two. I just cannot help myself Wickham fools me every time with his dashing good looks and pleasing words and the fact that he is in the Militia. I always hope somehow he'll surprise me and not turn out to be the shallow monster he really is. Then we have Mr Darcy, who the ladies declared he was much handsomer than Mr. Bingley, and he was looked at with great admiration for about half the evening, till his manners gave a disgust which tuned the tide of his popularity; for he was discovered to be proud, to be above his company, and above being pleased; and not all his large estate in Derbyshire could then save him , well, we all know how that turns out, happily ever after.
3. I think I would have truly loved to live in the setting of Pride and Prejudice. Sure I would have missed denim and electricity but doesn't it just seem a wonderful life to fill your hours with reading, walking, chatting and the occasional ball?
4. I can't help but alter between smiling and grimacing whenever I read of Mr Collins (Mr. Collins is a conceited, pompous, narrow-minded, silly man; you know he is, as well as I do; and you must feel, as well as I do, that the woman who married him cannot have a proper way of thinking.) and his smarmy nature, his refusal to accept Elizabeth would not choose to marry him and his devout adoration of that old beast Lady Catherine De Bourgh.
5. Mrs Bennett a woman of mean understanding, little information and uncertain temper. To give her an ounce of credit she was concerned about the welfare of her and her daughters should her husband pass away but all the same I would be thoroughly mortified if she were my parent. For which reason I find her highly entertaining. Her lack of thinking before speaking and inevitably saying the wrong thing in the presence of the wrong people never ceases to be amusing.
6. The Spice Girls think they invented 'girl power' but they are sadly mistaken. It was Jane Austen in her heroine Elizabeth Bennett instead. I applaud Lizzy for standing up for herself endlessly and so articulately to boot. I wish I were half the woman she was back in my dating days.
In essence it is a witty and romantic love story and what is there to dislike about that? So if you haven't read it, slap yourself around the head and go get a copy.
You will not be disappointed!!